A few months ago we got to interview Vivien Ngô a star of the new horror thriller 'Daughter' we talk about how she got involved with the project working with Corey and Casper Van Dien. We're super late on posting this interview because Infamous Horror was in the process of switching domains. Now we're publishing this interview to coincide with the DVD release. Daughter will be available on DVD May 9th.
AJ Friar:
Hi Vivien Ngô, how are you doing today?
Vivien Ngô:
I am lovely. How are you?
AJ Friar:
I'm doing good. How did you get involved with Daughter?
Vivien Ngô
I was one of the initial driving forces of Daughter, because me and Mr. Corey Deshaun were having some beers and just ranting about our frustrations with our careers and we're just like, "Why don't we make a movie?" And Mr. Deshaun went off and wrote a script for myself and Ian Alexander and Elyse Dinh. We'd known them for some time and had expressed an interest in working with them and making something for the three of us to play a family. But of course, Corey has a very interesting brain and didn't want to have us be a normal family. Or maybe they're normal. Who knows? What is a normal family? I don't know.
AJ Friar:
And how was it working with Corey and Casper and the whole cast on this as well? Because Casper was very strong and commanding in his role. How was it watching someone like him play a character that's very different for him to play?
Vivien Ngô:
Yeah. I mean, I think that's why he was drawn to it. He was so excited from day one. We were so lucky to have him. He came in, he started with us. I think he was shooting a different project, so he joined us on day two of production. But immediately, he was just so excited to be there with us and he immediately came in with ideas and really wanted to collaborate and just was really excited to dig in and just truly such a great guy. He's father in the film, but in real life he is a father, but not that kind of fa- He's just a goofy dad. Cracks a lot of dad jokes, kept the energy light when things got tense, because it was a quick and dirty shoot. We shot this in 12 days.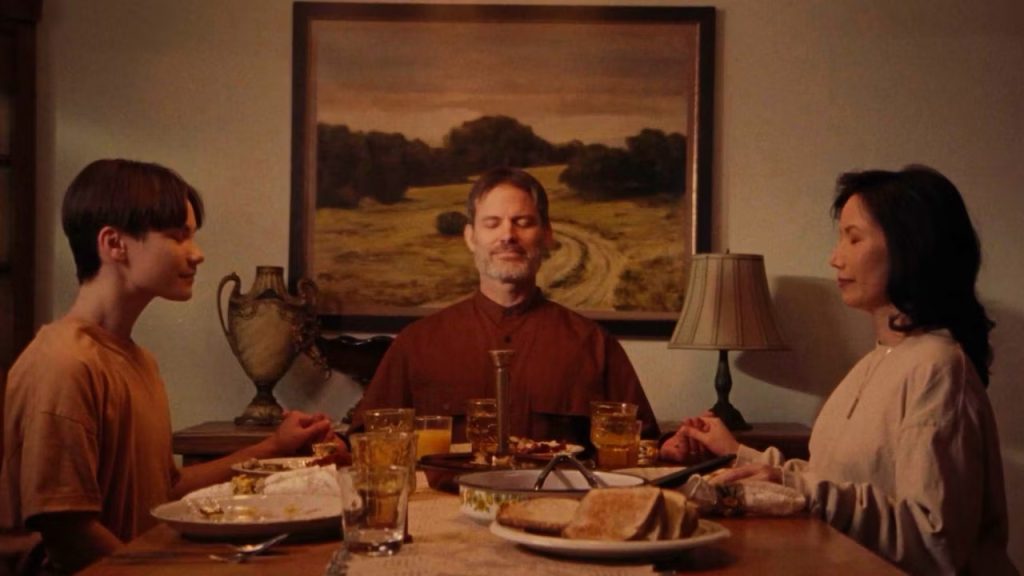 AJ Friar:
Oh, wow. Yeah.
Vivien Ngô:
12 days on film, so you know what we were working with. Corey just posted on Twitter about our limited resources with a lighting package. There's a lot of things that we were figuring out on the go. With Casper, he was just so wonderful to be around and if he wasn't with us on the set, he would be in his room just working on his lines. Really loved him and I think it's so important when you're doing something so dark that everybody has positive energy because if it's just this negative air throughout, then you can't really do good work and it doesn't feel safe to go into those dark places.
Yeah, and it helped too with a little bit, we didn't do too much stunt work, but a little bit of the light stunt work and his experience and background, because I'm not as experienced with that. I just always felt really safe working with him because yeah, I had to go to some dark places. Casper, great. Corey is a phenomenal director. Always one step… No, not one step. Five, 10 steps ahead. Solving problems before they're happening. We know each other, so he knew how far he could push me and then knew when to back off because he can only push actors so far then they break, I think, sometimes. And then Ian and Elyse were great. Sparring with Elyse. Ian is just so lovable.
AJ Friar:
Right. And you said this was a 12-day shoot, so was there any times when you guys were shooting this, you had to get it correct on the first time because you had so little days to complete this? How was that filming process too?
Vivien Ngô:
Stressful. I do think though, shooting on film, a low budget film shooting on 16 millimeter like this, it worked because we knew we didn't have a ton of money for all this extra film role. And so, we went into it and Corey wrote that in mind. This is how amazing he is as a writer and director, is he knew he was working with budget constraints. He made it with the knowledge that it was going to have to be very fast, and he wanted it stylistically, there are some shots where we just literally had one take and it was supposed to be on that thing of the actors are capable, we're going to show up and we're going to blow through this as much as quick as we can. If we do a setup and it's one or two shots, that's it. We're good. Sometimes we did more because you're in the middle of shooting, you run out of film. That was an experience I had never experienced before.
AJ Friar:
And one final question for you, and Vivian, with this getting ready to come out, what are you most looking forward to your audiences taking away from Daughter when they watch?
Vivien Ngô:
I'm excited to watch their reactions at a very specific part at the end, the wacky part where you break away from that world a little. I think you know what I'm talking about. Yeah, I mean, I think Corey says this. There's no definitive answers because people will, they read the script and they're like, "Oh, is this da, da, da, what happens?" I'm just like, we're trying to pose some questions about this allegory of what this family represents. I'm just really excited to see people's interpretations, see the conversations that might be sparked. We've been really lucky with the few A and As that we've done at festivals where people really do want to engage and they ask really, really thoughtful questions to Corey. I'm just excited to engage on that level. And also just, yeah, like I said, watch people cringe because that's… We view the film, me and Corey think of it as a comedy, but maybe it's just a comedy for us as we watch people react to it.
AJ Friar:
Well Vivian, thank you so much for joining us at Infamous Horror today. It's been fun and congratulations on the film.