Good Omens continues to prove why it's one of the better horror comedies streaming now. With David Tennant and Michael Sheen returning to reprise their respective roles, taking Good Omens to new heights this season alongside a scene-stealing Jon Hamm that should receive him an Emmy nomination for best supporting actor in a comedy series.
This fantasy series sees fussy angel Aziraphale and loose-living demon Crowley team up to form an unlikely duo. The two have become overly fond of life on Earth, and they are forced into forming an alliance in an attempt to stop the approaching Armageddon

Synopsis
Good Omens 2 has some great character development between the leads, David Tennant's Crowley dominates the screen with a commanding force not to be reckoned with. While Michael Sheen's Aziraphale keeps the series grounded by giving us a soulful performance that brings a lot of intangible lessons in acting.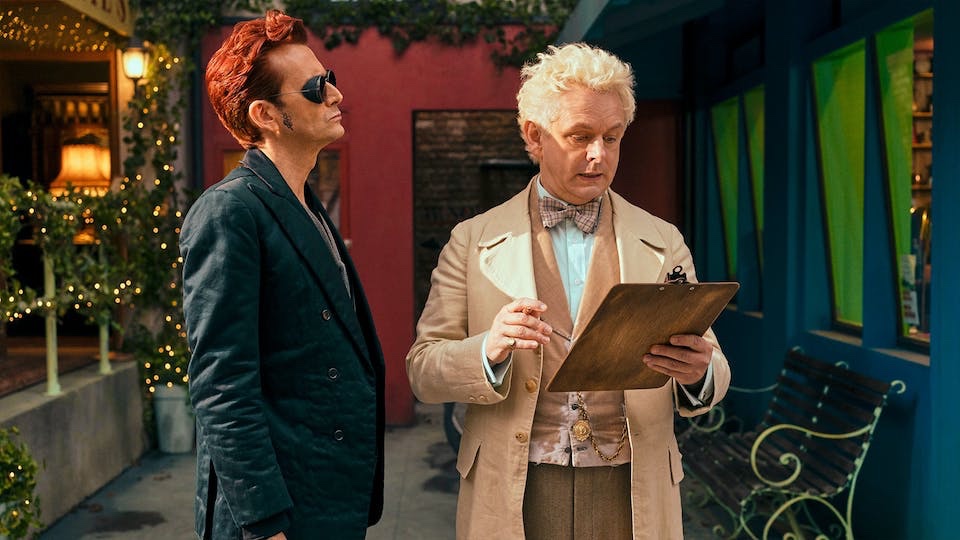 One of the best things about Good Omens 2 is also some of its worst with the CGI in some scenes looking as awesome as John Carpenter's The Fog, and then as bad as CGI that would be better suited towards a Tommy Wiseau production. That is the most frustrating and distracting part of this season.
It shines most when it focuses on creating side characters of the town to give Crowley and Aziraphale a sense of urgency when it comes to keeping the town people safe once they start hiding Gabriel in their bookstore. Having Frances McDormand and Benedict Cumberbatch as God and Satan respectively is a nice touch to add stories to Crowley and Aziraphale's past encounters.
Overall, Good Omens 2 is just as every bit as great as the first season while adding some fresh new flavor towards the story and its existing characters, while adding some new ones to help with the world building of Good Omens. This season is an easy one, you can binge in one afternoon or for a few hours at night. If you enjoyed the first season, you'll be begging for more as the season ends. Good Omens is another reminder why David Tennant and Michael Sheen are a perfect match when it comes to acting.
Overall Grade: 4/5 Stars