Not only is it a love story with its audience, who have been following them for over twenty years, but also a journey through time. From their initial short films, such as The Bagman, to Turbo Kid and Summer of '84, their fans have steadfastly supported and cherished their various projects. They made their triumphant return with their latest creation, We Are Zombies, which had its world premiere in their hometown, embraced by eager fans.
In a world where zombies, referred to as the "living-impaired," are an integrated part of everyday life, the Coleman Corporation offers a retirement plan aimed at studying these undead entities. Concurrently, three friends ingeniously breach the company's defenses to capture the zombies and engage in an underground trade. However, their scheme takes an unexpected twist when their grandmother is kidnapped to coerce them into compensating the corporation for its losses resulting from their operations.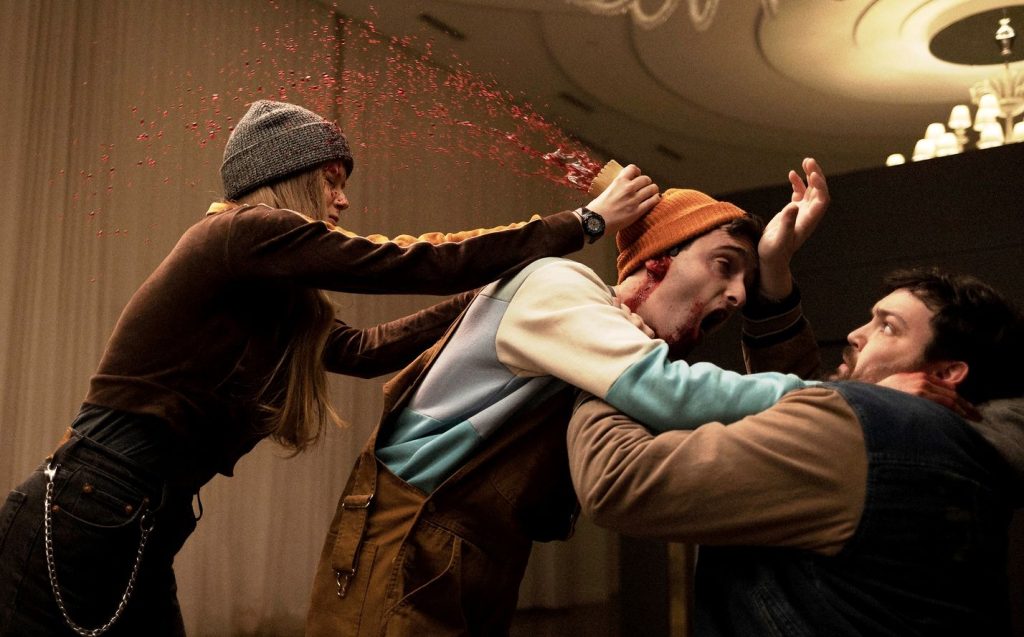 Based on the comic book series The Zombies That Ate the World, this Canada-France co-production defies the conventional zombie movie narrative. Unlike the usual portrayal of the living dead as a menace to be eradicated, a threat to humanity, this film presents a strikingly different perspective. The living-impaired remain a functional part of society; they are not victims of a disease. Death inevitably leads to zombification. When families can no longer care for their deteriorating members, they treat their transformation similarly to how we tend to the elderly. The story thoughtfully introduces endearing and comical characters, while also embracing the long-awaited action. Clocking in at 80 minutes, the film is a continuous thrill ride. With a script penned by Anouk, Yoann, and François, the result is unadulterated entertainment.
RKSS is already a winning formula. Combine their talents with the expertise of special effects artists Rémy Couture and the Blood Brothers, along with Le Matos' music, and you've assembled the dream team. The directors' ability to create a positive atmosphere on set resonates in the final product. The entire team invested significant effort into We Are Zombies, overcoming constraints in time and budget, particularly when it comes to the practical effects team, who have conjured remarkable wonders. The Montreal backdrop further enriches the experience for local audiences, with recognizable Quebec actors, including the seasoned Guy Nadon.
We Are Zombies refuses to take itself too seriously. While not falling into the B-movie category, it's sure to appeal to enthusiasts of indie horror films made on a shoestring budget. The gore effects are impressive and put on quite the spectacle. Each RKSS film stands apart from the rest, and this one is no exception. Undoubtedly, this movie will captivate zombie comedy aficionados, and it's well worth a watch for the sheer enjoyment it brings; it's a future cult classic that could rival Turbo Kid.
5/5