The cult movie that has everyone talking this year now has a DVD release date.
Available on VOD, Digital HD, DVD and Blu-ray February 1, 2022
"Superhost is timely and fresh" – Nightmare on Film Street
"an edgy indie satire that's sincerely psychotic" – What to Watch
"a fantastically manic performance from Gracie Gillam" – Thrillist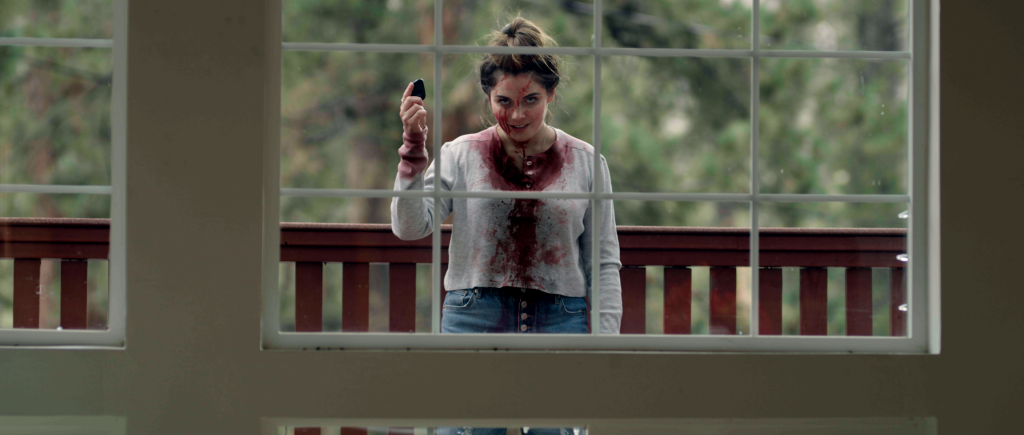 RLJE Films, a business unit of AMC Networks, has picked up select rights to the horror film SUPERHOST from Shudder, AMC Networks' premium streaming service for horror, thriller and the supernatural. RLJE Films will release SUPERHOST on VOD, Digital HD, DVD and Blu-ray on February 1, 2022.
Directed and written by Brandon Christensen (Z, Still/Born), SUPERHOST stars Sara Canning ("9-1-1", "Nancy Drew"), Osric Chau ("The Flash", "Nancy Drew"), Gracie Gillam ("Z Nation," "Scream Queens"), and Barbara Crampton (Jakob's Wife). The DVD will be available for an SRP of $27.97 and Blu-ray for an SRP of $28.96.
In SUPERHOST, Teddy and Claire are travel vloggers who run a channel called "SUPERHOST" where they travel and share their experiences in and around vacation homes, and until recently, had become successful doing it. With a dwindling subscriber count, they find the perfect opportunity to create content that people want to see when they meet Rebecca, the host of their most recent trip. Slowly they start to realize that something isn't right with Rebecca, and as they investigate it further, they unlock a horrifying truth. She doesn't just want a great review, she wants something far worse.
Bonus features on the DVD and Blu-ray include:
● Director Commentary
· Behind-the-Scenes of Superhost
· Shooting in a Pandemic
· Bloopers
· Superhost Visual FX
· Behind-the-Scenes Photo Gallery
· "Scaredycats" Episodes 1 & 2