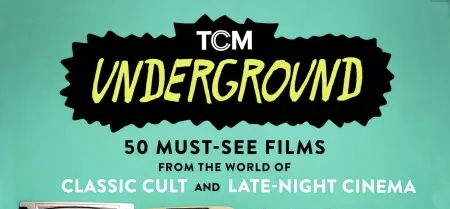 We recently got to interview the authors of the new book TCM Underground: 50 Must See Films From The World of Classic Cinema and Late Night Cinema. We don't usually interview authors at Infamous Horrors, it was an exciting experience for me to pick their brains about horror.
What got you two interested in writing this book?
 
QM: We both worked at Turner Classic Movies when the idea of writing a TCM Underground-branded book was in the works with Millie. However, she was in the middle of a life change, so she offered me the option to write the book instead. It's been a childhood dream of mine to be an author, so I jumped at the opportunity. But I was also in the middle of a life change and an entire book in a few months was too much for one of us to tackle on our own. So, I proposed the option that we write it together and luckily it worked out for us both!
 
How many movies did you revisit in order to compose of the films included in the book?

QM: We had a list of well over 400 films to choose from and of that we picked our personal favorites since we split the titles in half. I watched/rewatched about 40 films to narrow down the ones I wanted to commit to.

How did it feel talking about Ganja and Hess and Häxan witchcraft through the ages?

QM: It was exhilarating! Both are two of my favorite films, so it was really cool to have both of those in close proximity in my brain. Häxan is unlike any film I've ever seen ,and I feel the same way about Ganja and Hess. Both are these super cool, creepy arthouse films with a focus on spirituality. Pretty much tailormade for my tastes!

Of all the horror films brought up in the book which one(s) are you most excited about people discovering?

QM: For me, it's The Brood. I've been writing and talking about that film for years. I just recently finished graduate school, and it is one of the films that's part of my corpus in my dissertation. The theme of trauma is very popular in the zeitgeist right now, and I think The Brood is a perfect visual representation of how trauma manifests itself in the body and gets passed down. Samantha Eggar is fantastic in it and the creep factor is perfect.

MD: I know it's kind of in the middle of a resurgence of sorts but I like Possession a lot
and it was great to be able to write about it. I know it's not often a straight up horror
movie, but it definitely has moments of unease (and a creature). It's more emotionally terrifying, I think.

Did you want to discuss any movies that eventually didn't have space for the book?

QM: A few movies for me didn't make the cut, particularly River's Edge, Heathers, Slumber Party Massacre 3, and Black Christmas. Ultimately, if talked about it on our Slumberground YouTube series, then I didn't pick them to write about. But, between the two of us, we covered everything I would have wanted to spend the time on discussing and rewatching for this book. If we get the chance to do a part two though, we have some great options on the back burner!

MD: River's Edge would have been one for me, too.

Of your favorite cult film directors or producers which are some of your favorites? Meaning people like Roger Corman, Lloyd Kaufman, David Lynch, Lars Von Trier.

QM: Some of my favorites are David Cronenberg, Haile Gerima, and John Carpenter. I may not love every film of theirs but, more often than not, their films leave a lasting impression. I'm going to cheat a bit and add an actor: James Spader. If he's in a film, I've either seen it or will watch it. He's a cult icon!

MD: Some of my favorites: Paul Bartel, Curtis Harrington, and John Carpenter.

If there's one thing that you hope people will come away with after reading this book, what do you think it should be?

QM: I hope that people gain more of a curiosity for films that aren't "canon," and I really hope our book helps expand the notion of what's canon in the cult movie world. I grew up loving obscure, weird, out-there films and watched as much of the iconic ones that I could. But I think the idea of "canon" has homogenized what types of movies fans like me get caught up watching. It creates a feedback loop that ignores so many other phenomenal gems and directors because they never made it to the "Best of" or "All-Time Greatest"-themed lists. We just really wanted to make a book that captures our favorite films from our individual perspectives and tastes.

MD: I hope people are genuinely curious about seeking out some of these titles (or maybe rewatching them if it's been a while). I think some of these titles maybe don't seem like they fit into the classic cult movie canon at first but if I think if they dig into them a little, they'll understand why we chose them.